Outdoor activitiesin Lorient Bretagne Sud
The countryside is full of outdoor activities!
Because there is more to see around Lorient than the sea! Kayak, paddle, theme parks, bicycle, walking, cultural visits, gourmet visits, sailing on the Blavet, fishing in the Scorff… Discover all the outdoor activities in Lorient Bretagne Sud, in the countryside!
Between Lorient and Plœmeur, a greenway runs from the town to the beach through the fields that you can take by bike, on foot, on rollerblades or scooter (as long as you don't have a vehicle with an engine). The course is flat, accessible to everyone (8 km only), and free of charge. Depart from Kerfichant in Lorient; arrive at Courégant in Plœmeur, right on the small beach.
In Plœmeur, the outdoor playground, Le Poisson Volant (ropes in trees, etc.), welcomes the young, and not so young children for a moment of playful activity in the middle of nature.
The Green Valley of the river Blavet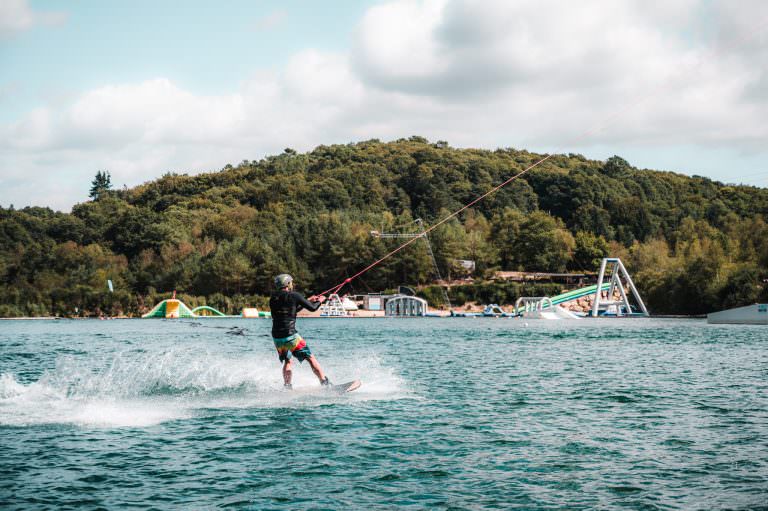 Do you know the Green Valley of the river Blavet? On foot or by bike, you can follow this river from Hennebont, then to Inzinzac-Lochrist, then to Languidic, all the way to Pontivy! For some holiday-makers, the Blavet can even become a holiday project over several days.
Navigating on the Blavet, in a kayak or on a paddleboard, or on the Dutch tjalk (barge) Korriganez. For a thrill, head to the whitewater park of Inzinzac-Lochrist, for lively kayaking with friends or family! Or the West Wake Park where you will discover the thrill of wakeboarding.
If it's very hot and too crowded on the coast? Head to Minazen lock, in Languidic, where you will find a small "guinguette" (riverside café) to quench your thirst, and even a small beach on the river!
Still in Languidic, Le Ranch de Calamity Jane welcomes you and your family for a good laugh in a Far West setting.
Pont-Scorff: river and art!
You can also paddle or kayak on the river Scorff. And you can fish there too. Pont-Scorff is also a pretty village to explore, with a stroll between the town and the site of the Moulin des Princes, just before Cléguer. In the summer, take the "Art chemin faisant" route, a travelling exhibition that combines nature and architecture.
Breton medieval village in Quistinic
The Village of Poul-Fetan in Quistinic, with authentic thatched cottages, is one of our best fun family outings in Lorient Bretagne Sud. This is an opportunity to immerse yourself in a Breton village of the Middle Ages, and even help with certain daily chores, such as bread making. Most of the visit takes place outdoors.
And if you like houses with thatched roofs, you will also discover them in the village of Lanvaudan!