Top 10 beaches in Lorient Bretagne Sud
Discover the best beaches near Lorient
In Lorient Bretagne Sud, we are proud of our coastline and our beaches! There's something for everyone here. All beaches offer clean and healthy bathing waters. Some are supervised in July and August for safe swimming, and are equipped with showers and toilets. Hippocampe wheelchairs are also available at some of our beaches for people with reduced mobility.
At low tide, there is even more space and activities: running, playing football, making sandcastles… You can even fish for crabs in the rocks along the beach. Stand-up paddle, surfing, kitesurfing, sailing, kayaking… There are plenty of water activities available on these beaches. And everyone cohabit in harmony!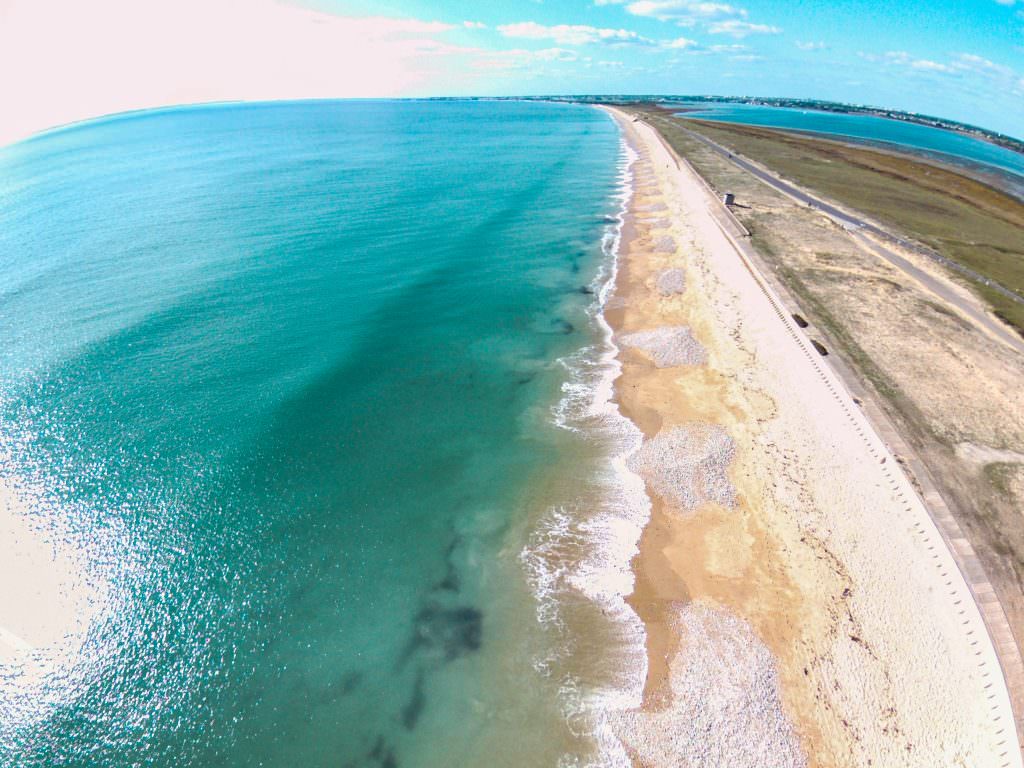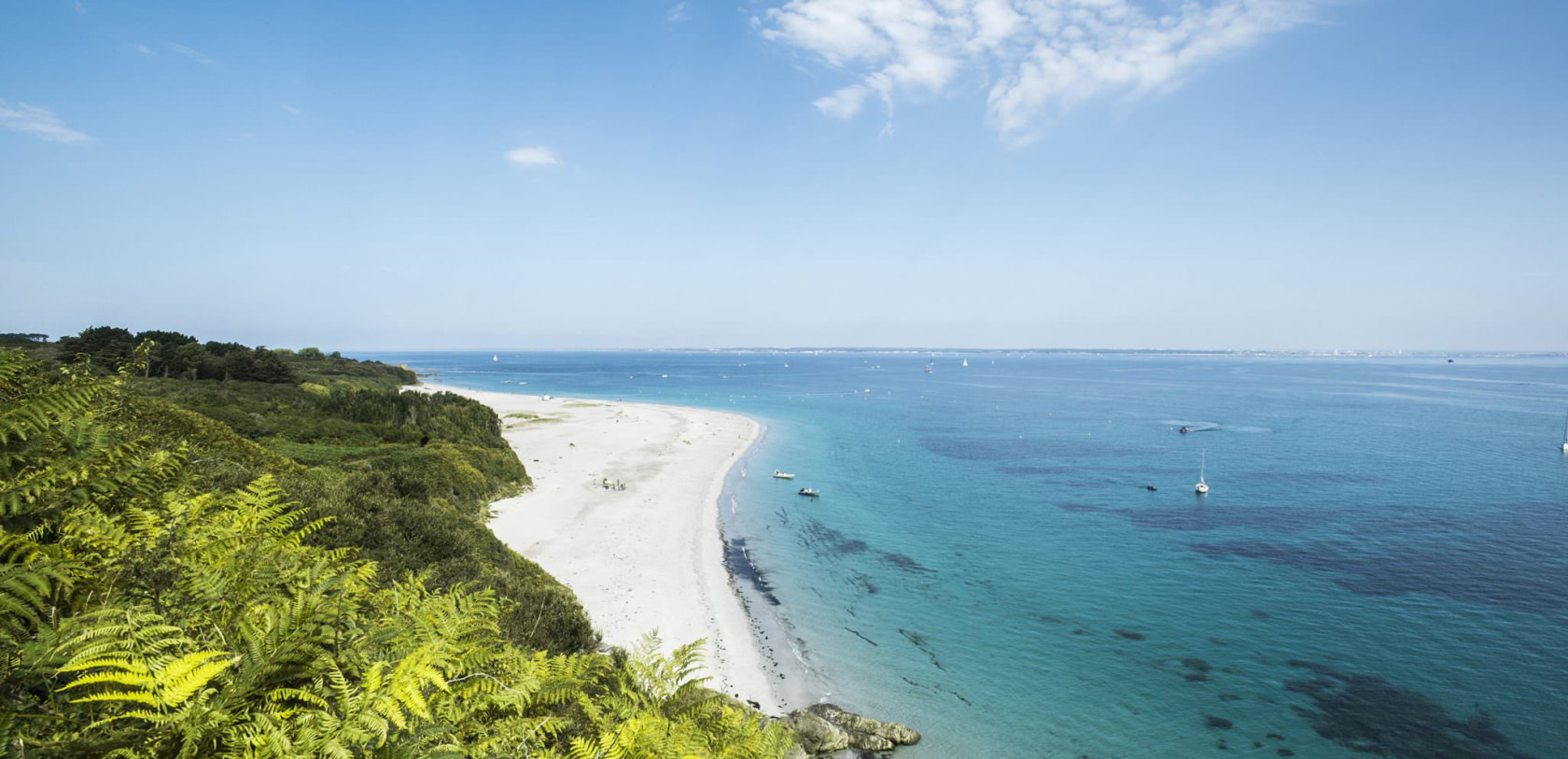 01 Island of Groix: Grand Sable* beach
Crystal clear water, fine sand, dream setting...
Like in a dream, as if you were far away, somewhere else on the planet.
Enjoy the unique natural environment on the island of Groix. Swimming is supervised in the summer. Les Grands Sables is an ideal beach for children.
*Large sand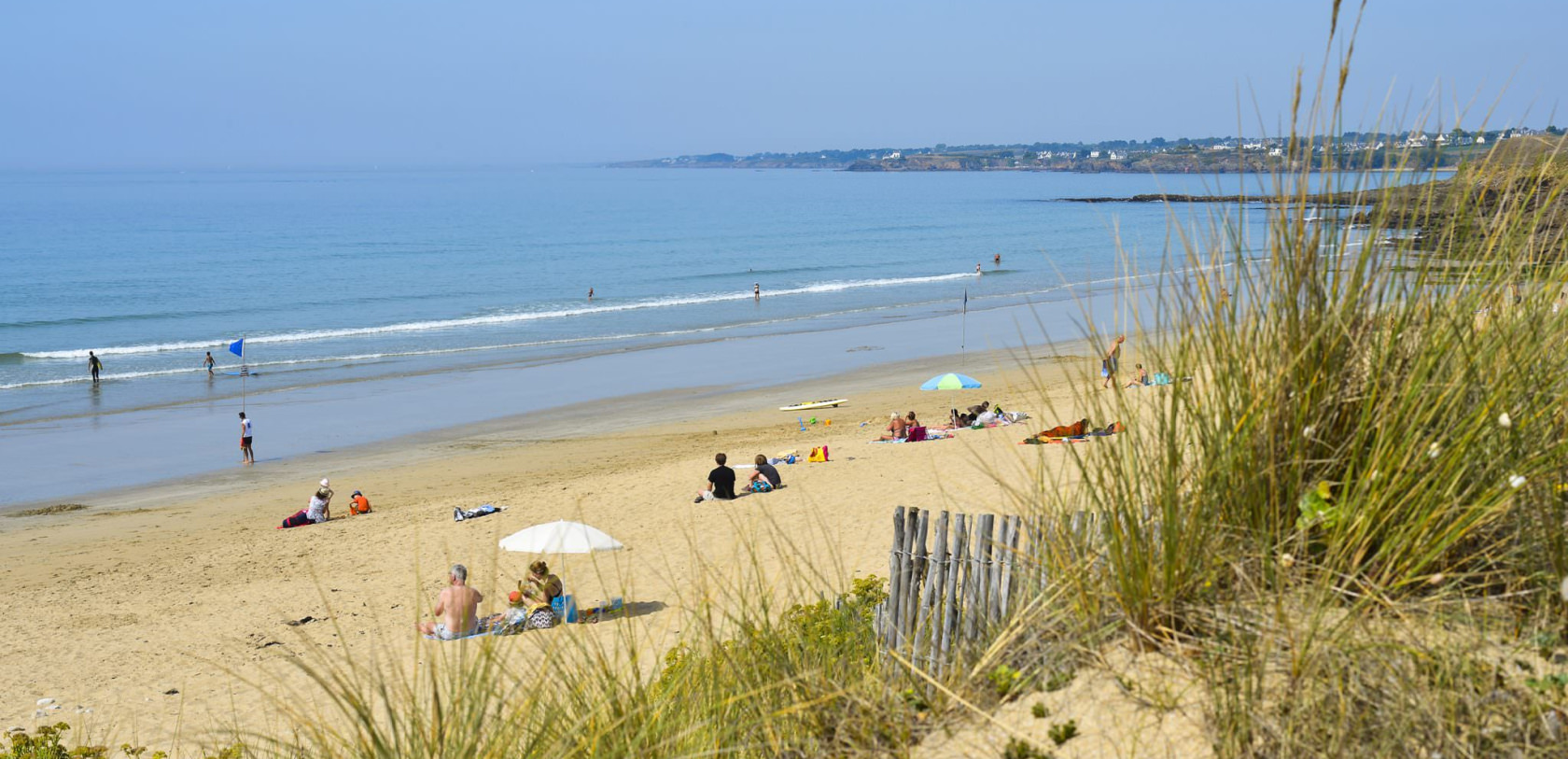 02 Loch's beach of Guidel

Beautiful fine sand, an exceptional setting near the Loc'h's Fort, beautiful coastal paths, sunsets… And also, a young and dynamic atmosphere: Le Loc'h is THE beach for surfers. Swimming is supervised in the summer.
Plage
surveillée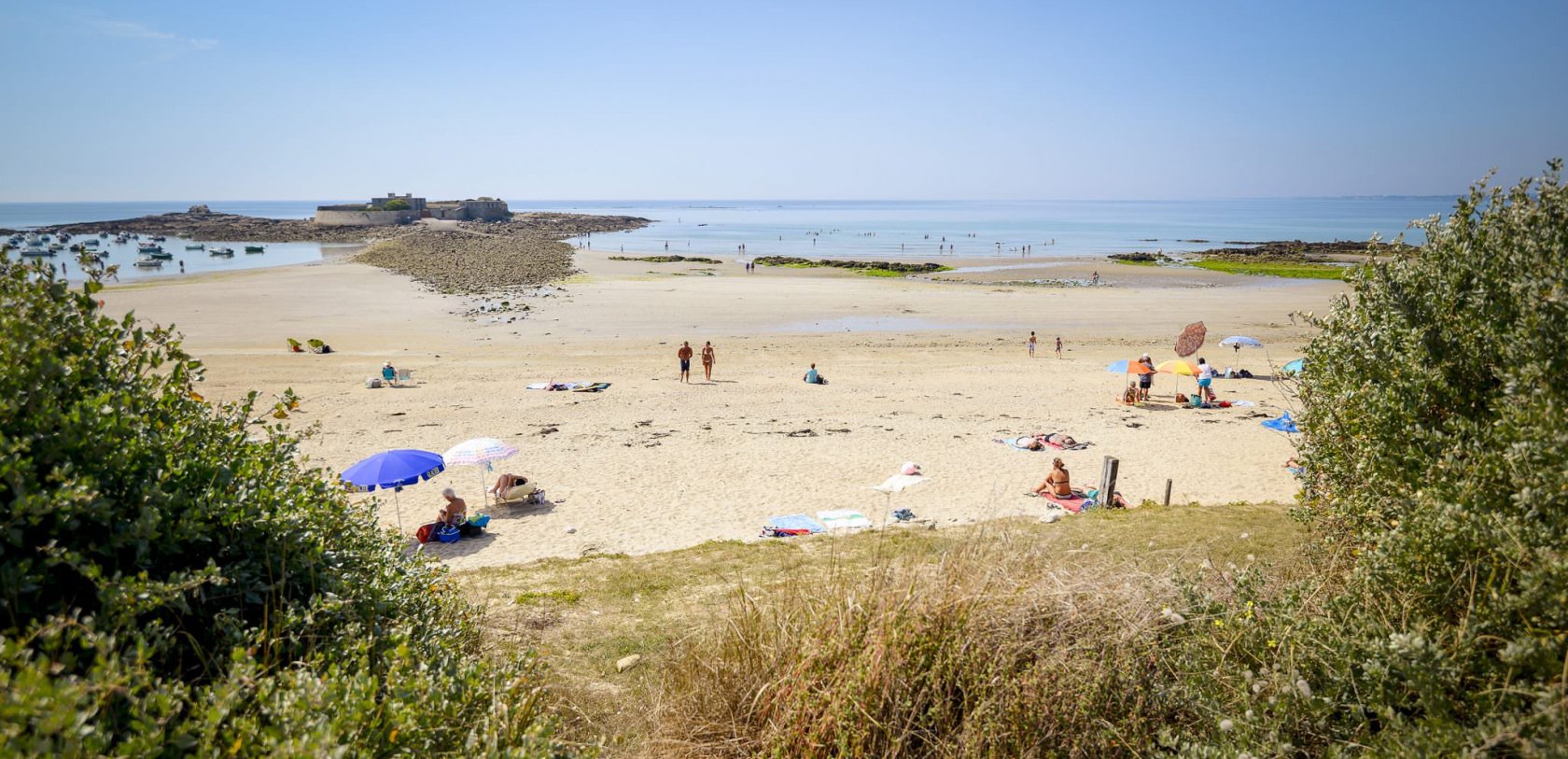 03 Fort-Bloqué* Beach in Ploemeur
Fine sand, a huge beach with a gentle slope. A few rocks; just enough to have fun without hindering your swim. The perfect place to spend the day with the kids, toddlers and teens. Swimming is supervised in the summer.
The coastal road also offers a lovely view along the sea.
*Stucked Fort
Plage
surveillée
WC
accessibles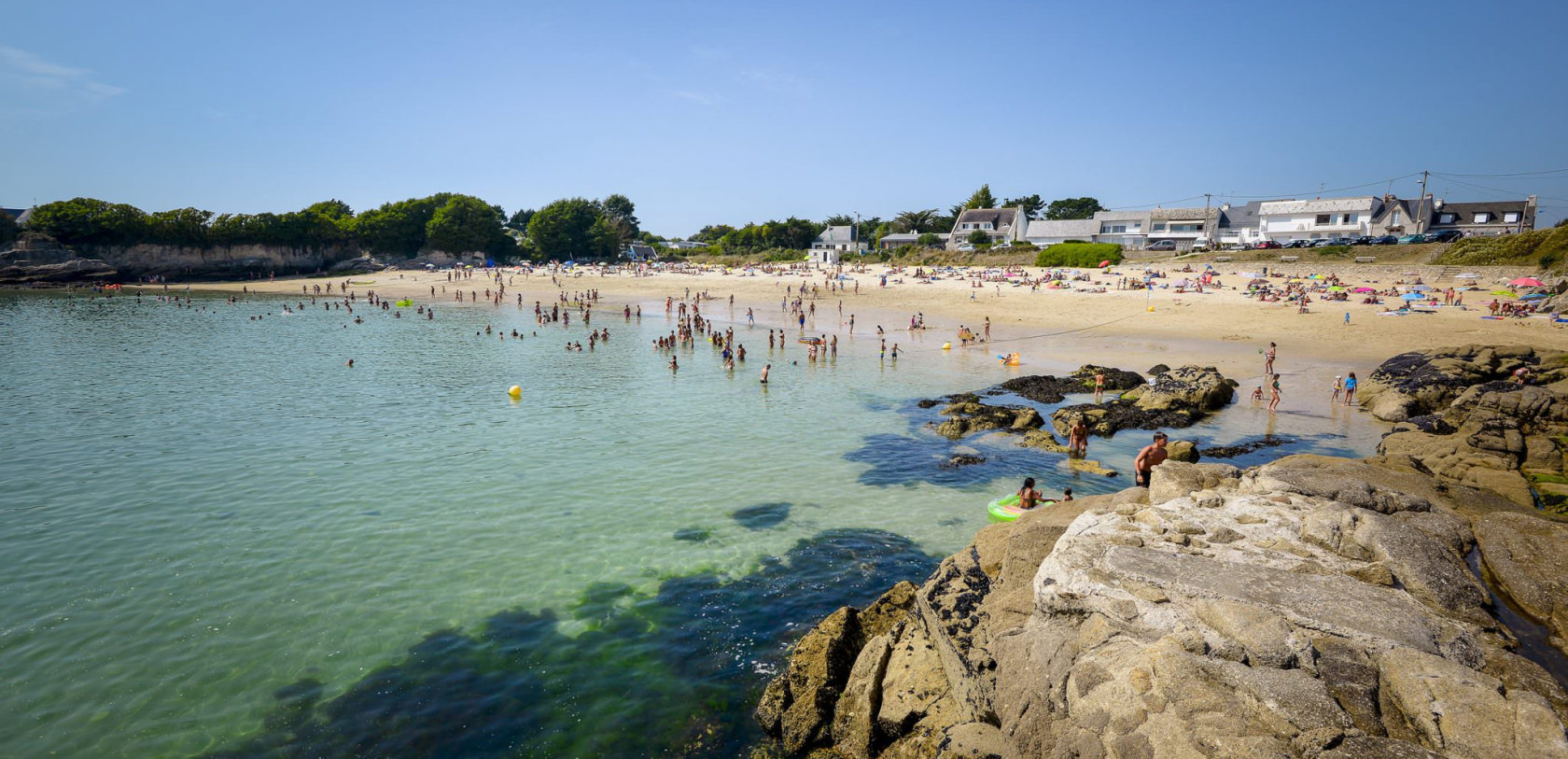 04 Pérello beach in Plœmeur
Are you looking for a heavenly beach? Pérello beach has turquoise water that make you want to dive in! This family beach is also the one that appeals to many young people. Many of them play beach volleyball and join their friends.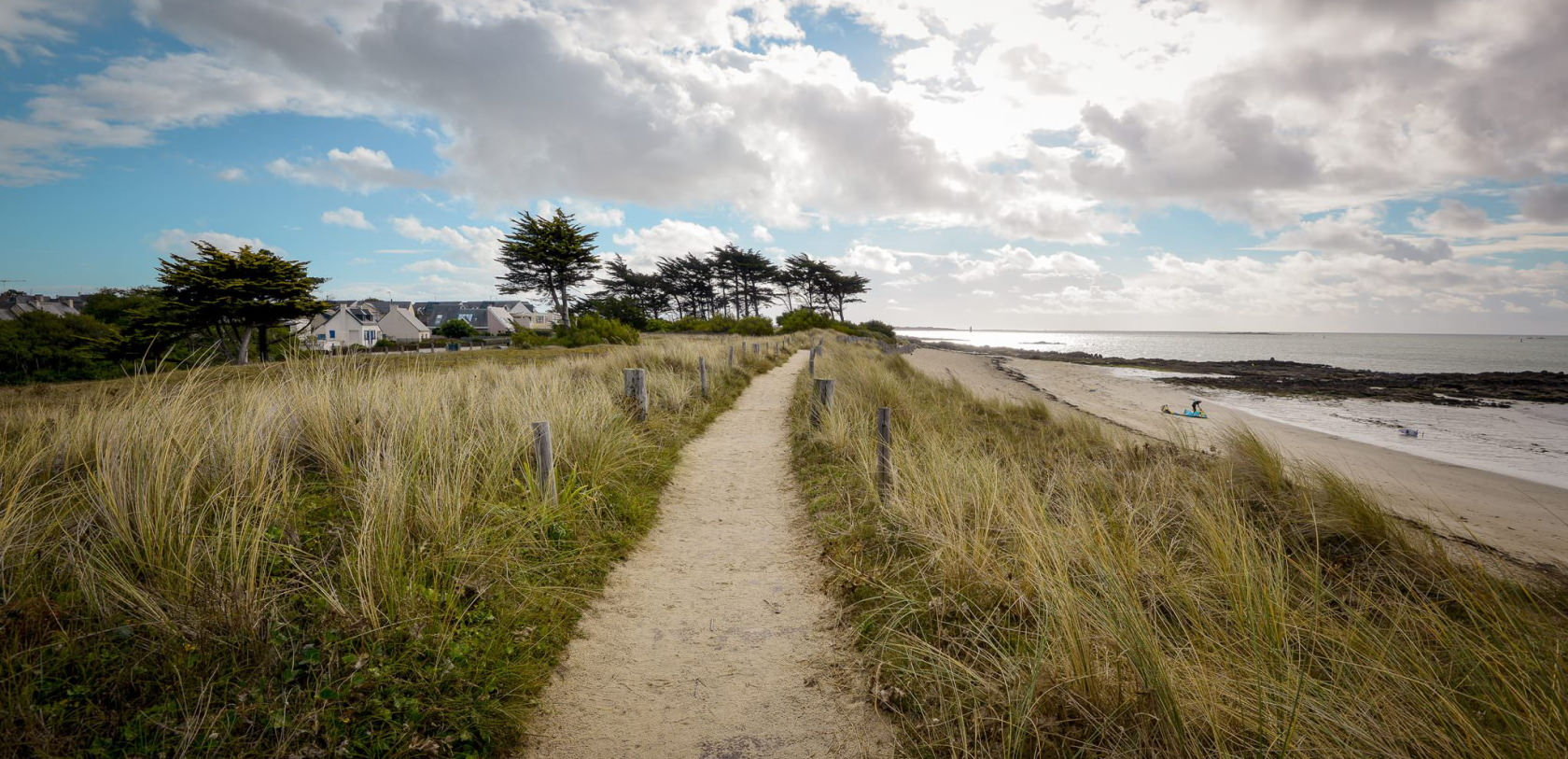 05 Kerguélen beach in Larmor-Plage
Also known as "Lorient-beach"!
Kerguélen is the ideal beach for a combination of holiday activities: you can sunbathe and swim, or have a drink on the seafront at the Bar-restaurant Les Mouettes while waiting for the sporty ones to return! Beach supervised in the summer.
Kerguelen Sports Océan overlooks the beach and offers a wide range of nautical activities for the young and old, as well as rental of dinghies, catamarans, windsurf board…
Plage
surveillée
Accès
handicap
WC
accessibles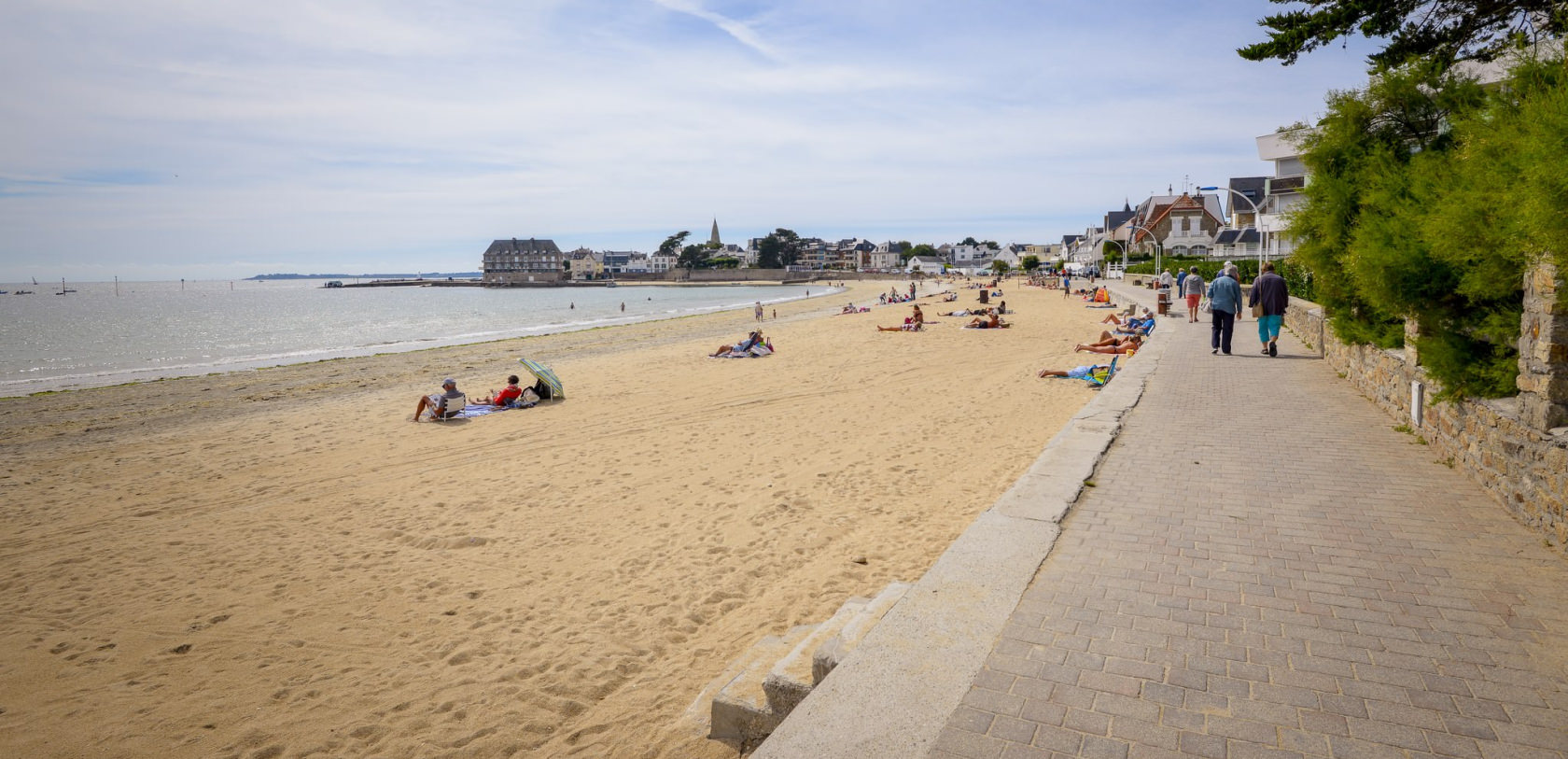 06 Toulhars beach in Larmor-Plage
At Toulhars beach you can swim and admire all the comings and goings in the bay! Fishing boats, the Groix ferry, sailing boats and motorboats. In good weather, it's quite a ballet! Toulhars is an ideal beach for young children as it is quite flat and located in a sheltered cove.
From Toulhars, in summer or winter, you can head to the promenade which runs along Port-Maria beach for a drink or a meal at a restaurant. Kid's club on the beach offers a variety of fun activities. Beach supervised in the summer.
Plage
surveillée
Accès
handicap
WC
accessibles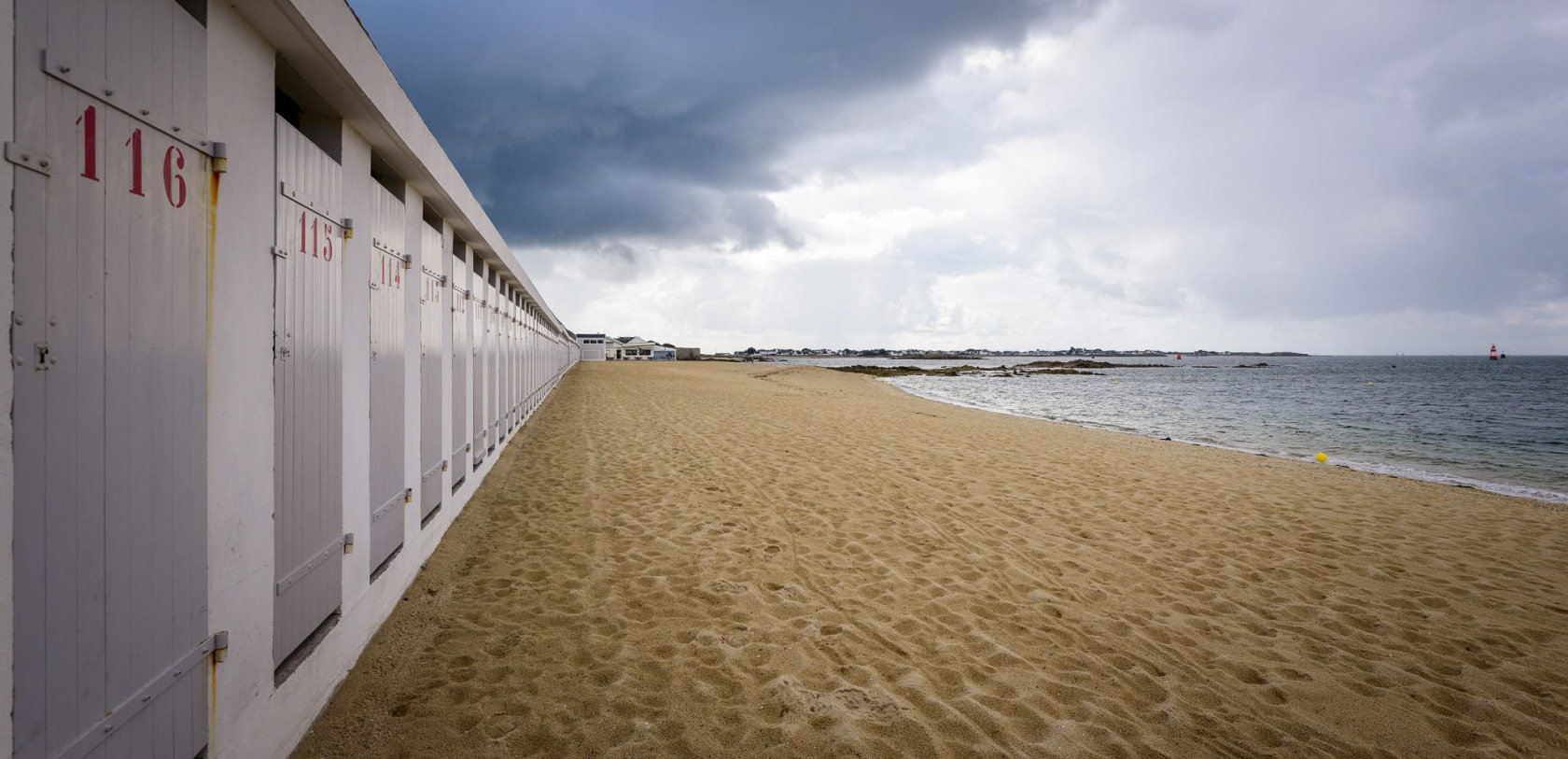 07 Grande Plage* in Port-Louis
Under the ramparts, the beach and its colourful cabins create a delightfully retro atmosphere.
Opposite the island of Groix, there are two restaurants on the beach from which you can admire the sunset at the end of the day. To see and experience!
Beach suppervised in the summer.
*Wide beach
Plage
surveillée
Accès
handicap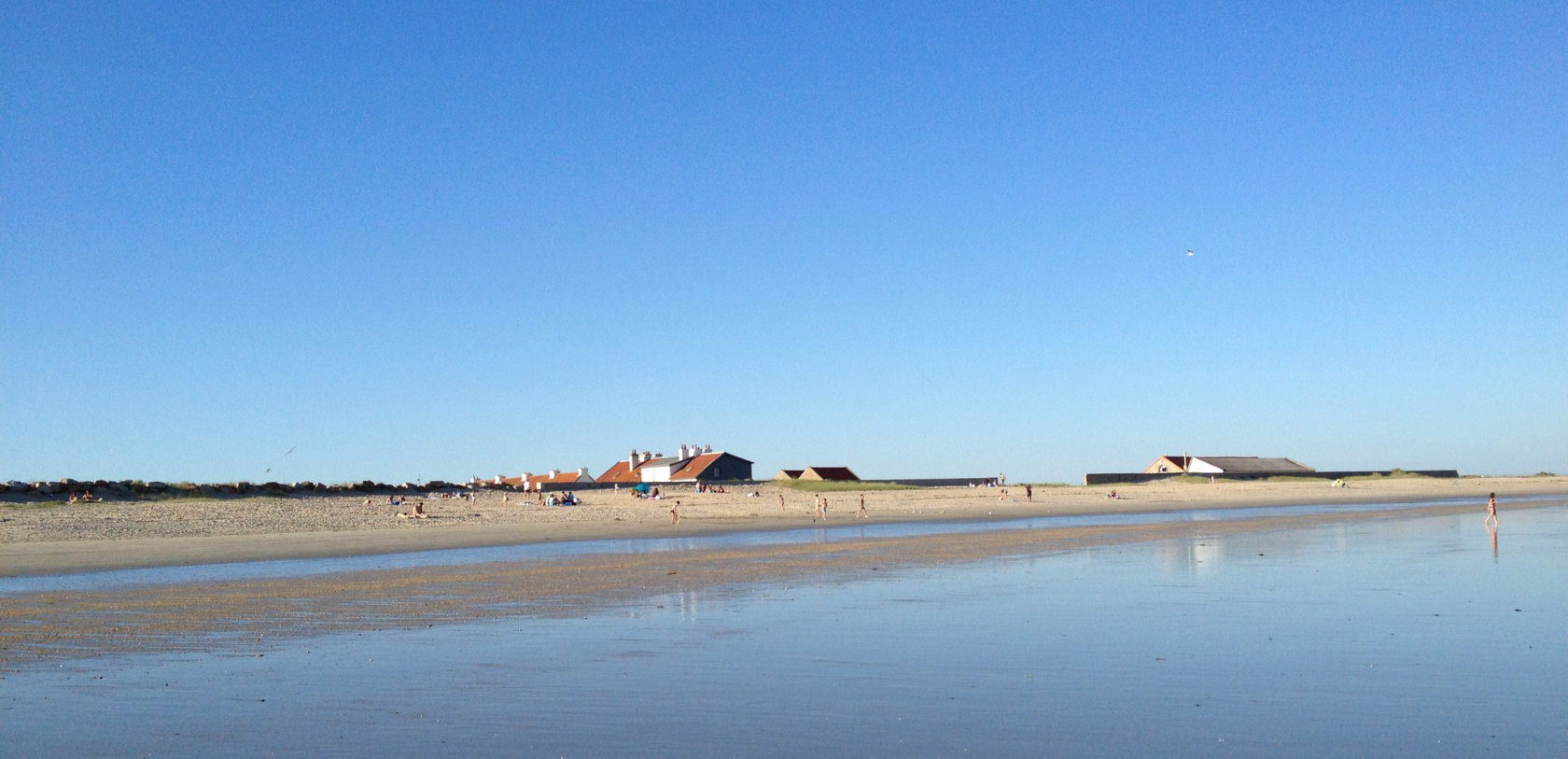 08 Grande Plage* in Gâvres
At the foot of the fishermen's houses in the small village of Gâvres, start the beach known as Grand Site de France Dunes Sauvage de Gâvres à Quiberon.
25 km of fine sand, lined with dunes covered in marram grass blowing in the wind. A magical setting that will make you feel far from everything. In the bay, swimming is quiet and safe for children (supervised bathing in summer).
*Wide beach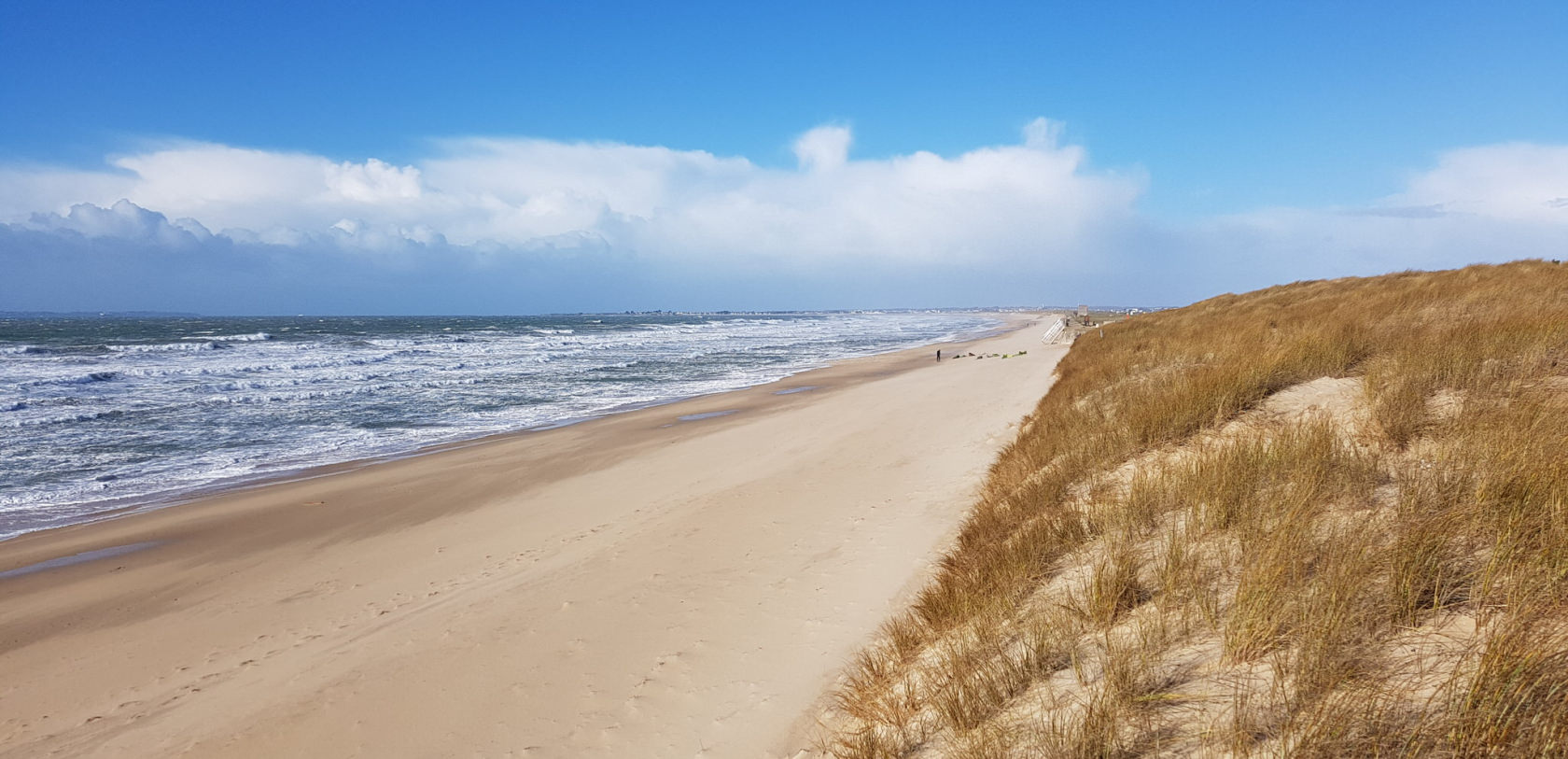 09 Linès beach in Plouhinec
This is a large dune site, with a beach as far as the eye can see, and a surf spot with waves appreciated by the locals. You can also swim here, in crystal clear water, away from the surf spot and the numerous kite surfers.
Young, family atmosphere.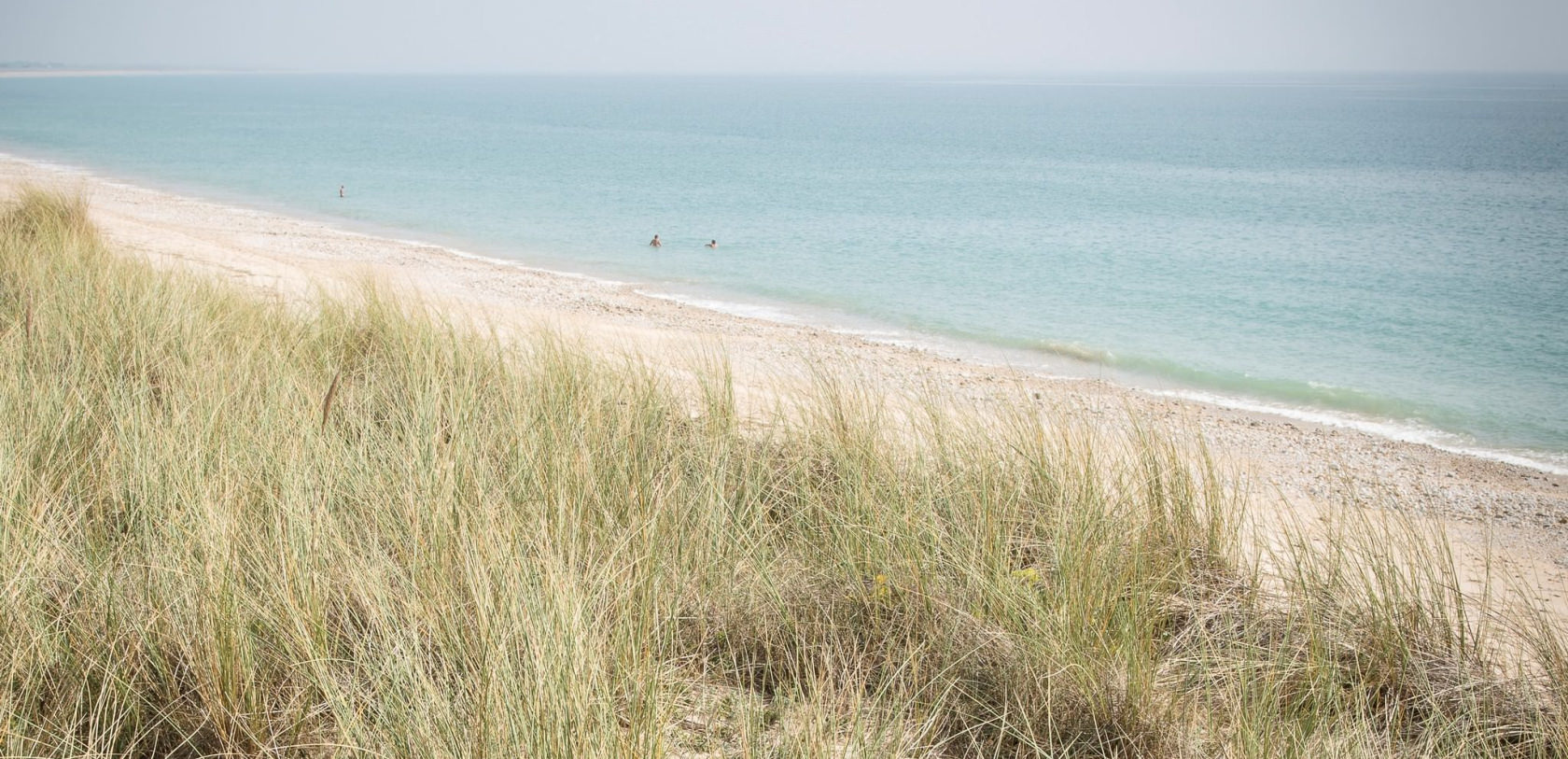 10 Magouëro's beach in Plouhinec
Still on the large dune site, lots of space and fine sand, a few rocks for fun at low tide, beautiful clear water and wild nature all around.
Swimming is supervised in the summer.
This is a family-friendly and very popular beach.
Plage
surveillée
Accès
handicap
WC
accessibles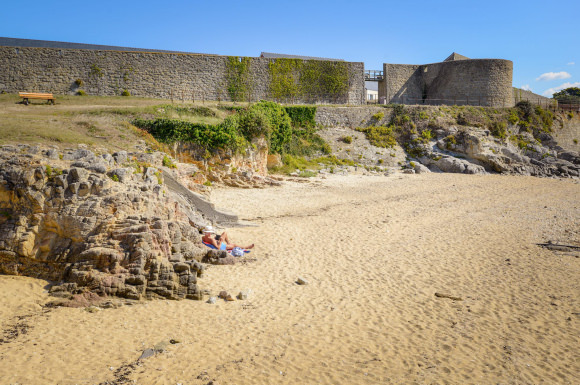 All our little secret coves
The coast, from the island of Groix to Larmor-Plage and Guidel-Plages, holds a series of small, secret and sheltered creeks. But we're not going to give them away, you'll just have to explore!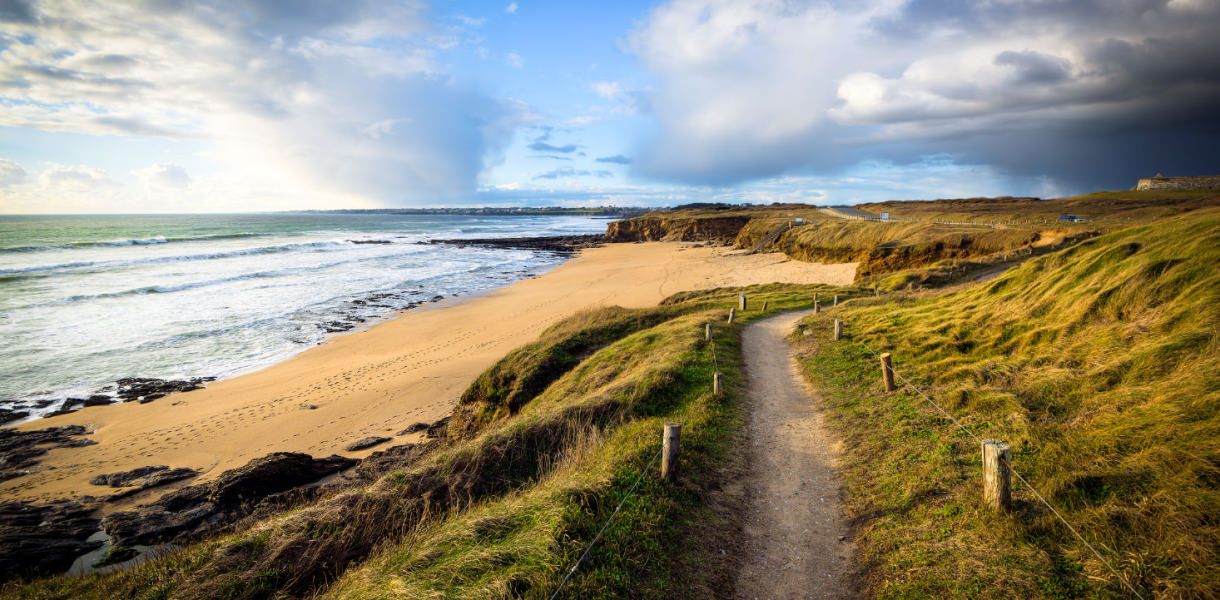 What if I want to go skinny-dipping?
In Plœmeur, the plage des Kaolins is nestled in a magnificent landscape of dunes. It is a mixed naturist beach (clothing accepted), supervised in the summer. However, it is not recommended for families as it is dangerous. The beach slopes and the water gets very deep very quickly. There may be strong waves and currents.
Plage
surveillée
Nudistes
bienvenue